Kanye West - Clique ft. Big Sean & Jay-Z (Explicit) (by DEFREDAA)
It can be hard to get yourself to do schoolwork when the weather outside is so crappy and all you want to do is sleep.  If you're like me and can't study to music with words, then add the Jazz Essentials radio to your Pandora playlist.  More interesting (and significantly less depressing) than classical music but still un-distracting, the catchy tunes and quick beats inspire productiveness.  Give it a try the next time winter's misfortunes get you down and unmotivated.
Here are my favorite looks from the 2012 Golden Globes.
Elle Macpherson, Zac Posen
Emma Stone, Lanvin
Heidi Klum, Calvin Klein Collection dress; Lorraine Schwartz jewelry
Kelly Macdonald, Lorena Sarbu
Mary J. Blige, Michael Kors
Salma Hayek, Gucci
Sarah Michelle Geller, Monique L'huillier
Paula Patton, Monique L'huillier

Coldplay vs. Sufjan Stevens
—Clocks/Chicago
Lace-Up Utility Boots
Why I'm loving it: Cool and functional, this tougher fashion choice adds edge to any outfit, and not to mention are comfortable, trendy, and (most importantly) warm. For me, they serve as a more stylish alternative to snow boots.
What to get: Get a pair in a neutral to pair with everything, or find some with a funky pattern lining to make a statement. Keep in mind that leather isn't the only option - styles abound in suede, cotton, and canvas. Flat boots will ensure your safety when walking on a slippery sidewalk, whereas a heeled version will keep this borrowed-from-the-(army)boys look more polished and feminine.
How to wear it: Keep the leather jacket in your closet and instead reach for some lighter options. Think a purple cardigan, a mini skirt, and oversized, flouncy scarves (though not all at once). The contrast keeps the look balanced. Thick, slouchy socks add visual interest as well as keep your feet toasty. Don't feel obligated to tie them up all the way, either; keeping them unlaced and letting the sides slump a bit elevates the cool factor.
*Since most of these styles came out in the fall, tons are on sale now!
Add these to your collection:
Put it all together:
Dedicated to the future most fashionable and talented in the world.
You've probably heard about pinterest.com by now, but if you haven't, you won't be able to keep it out of your mind for long.  This website allows you to create virtual moodboards with images you find on the internet, upload yourself, and repin from other users.  Follow your friends' boards and users from all over the world - see wedding ideas, dream homes, and get some great fashion inspiration. 
Request an invitation to join now!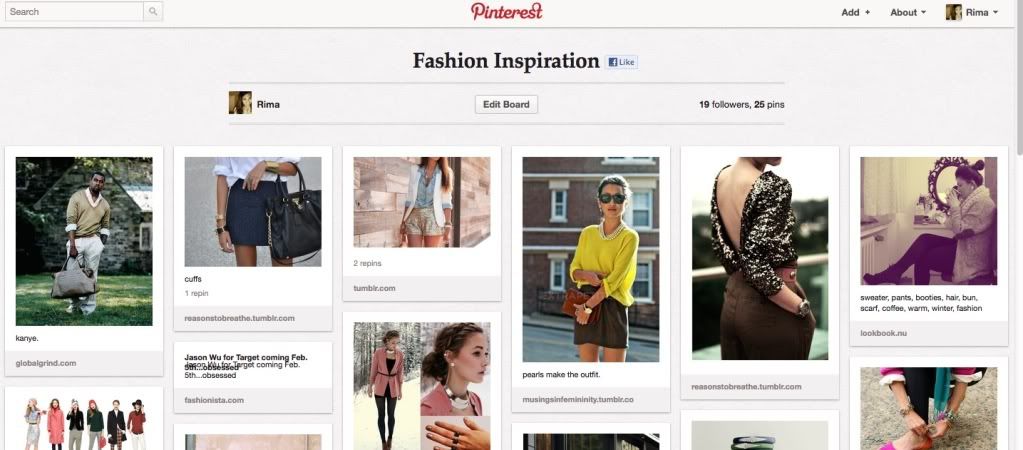 DJ Moondance
—Wastin' Time Ain't A Thing
DJ Moondance - Wastin' Time Ain't a Thing
(Jay-Z and Dave Matthews Band mashup)
A pleasant way to start off your week.
Check out/download the entirety of The Crash Album.
It's that time of year again - put away your swim suits and sundresses and get out your cardigans and blazers.  Fall is here!  Read on for our list of autumn essentials that will keep you looking stylish (and warm). 
1. Lace - Keep it classy by sticking to dark colors (black, charcoal, navy) and only exposing a little bit of skin.  Save your neon green lace bralette for Coachella next year.
Dorothy Perkins sleeveless dress
£10 - dorothyperkins.com
2. Chunky Knits - Hooray, something cute and cozy!  Thick, heavier knitted cardigans and sweaters look great paired with dark jeans and cords.  Belt a sweater like this J.Crew one and add some skinny jeans for an easy, pulled-together look perfect for class and the library. 
J crew cardigan
$130 - net-a-porter.com


3. Blazer - Every girl's wardrobe essential!  The perfect blazer can be dressed up or down, fits like a glove, and goes with every outfit.  Navy is really versatile, but so is grey and (depending on the other colors in your closet) camel.  Invest in a good one so you can have it for years to come.
J Crew navy jacket
$188 - jcrew.com


4. Parka - East Coasters, rejoice in the fact that long jackets are a huge staple this season (you'll need one once October rolls around).  Make sure to keep the rest of your outfit pretty tailored so as not to be mistaken for the Michelin Man.  This army-green (another fall trend) anorak from TopShop has a drawstring to cinch the waist for a more feminine look. 
Borg Collar Padded Parka
$190 - topshop.com


5. A-line Skirt - Great for fuller shapes, and a great transition piece from summer since you don't need tights to pull it off.  The ideal a-line skirt hits right at the knee (or only a few centimeters lower).  Petite figures, beware: a skirt that hits too low can severely shorten your frame - Rachel Bilson rocks a shorter style here. Pair with a tucked in v-neck tee or thin sweater and finish it off with a belt. 
Preen high waisted skirt
$350 - net-a-porter.com


6. Colorful Pants - Definitely not a bad blast from your preschool past, hue-rich pants are making a sophisticated comeback for fall.  Choose a bright pair and throw on a top in the same or a complementary color.  These poppy J.Crew cords would look great with a similarly hued shirt, but for a more subdued look, a tan, elbow-length sweater will keep you from gathering too much attention.  
J crew
$80 - jcrew.com


7. Bold Shoes - Either in a print or a color, pick up a pair of kicks that make a definite statement.  Just don't be offended when people forgo looking at your face when you're talking.
TOMS houndstooth shoes
$54 - toms.com


Moschino Cheap & Chic leather flat shoes
£229 - profilebrighton.co.uk


8. Animal Print - A HUGE trend this fall, pick up a leopard-coated sweater, pair of shoes, or if you just want a touch of feline flavor, this cute Marc Jacobs laptop case.
Marc by Marc Jacobs bag
$91 - my-wardrobe.com


9. Colorful Handbags - If you're not ready to jump right into the fall color splash, make your outfit pop with a fun, vibrant purse.  This cute neon pink one will look great with a grey dress.
Kate Spade gold handbag
$295 - couture.zappos.com


10. Feminine Touches - A big theme this fall is Good Girl vs. Bad Girl, and these adorable earrings with little bows add the perfect girly flair. 
Betsey Johnson party earrings
$55 - zappos.com


11. Pendant Necklaces - A great finishing touch to any look, pick up an interesting pendant in any shape or size and be prepared to get compliments on your outfit.
Wood jewelry
$115 - reissonline.com


12. Brightly Colored Scarves - In case you didn't pick up on it by now, color is big for fall.  We love cobalt, and we think this scarf is quite the seasonal piece.
Emilio Pucci embroidered scarf
$229 - theoutnet.com


13. Steel Eyes - The ultimate cool eye shade for fall, gunmetal shadow is totally glam and amps up any ensemble.  Concentrate it on the center of the lids for an ultra-chic look.
Dior Couleurs Extreme Eyeshadow
$29 - saksfifthavenue.com


14. Dusty Nail Polish - Fall nail color forecast: dirty, dusty colors.  Trust us, they sound a lot worse than they look; on your nails, an army green, muted pink or dull grey looks very sophisticated. 
SEPHORA by OPI Caught With My Khakis Down Nail Colour Caught With My…
$9.50 - sephora.com


What's one of the biggest trends this fall?  Color!  And lots of it.  Long gone are the days where the primary colors (red, yellow & blue) reigned as elementary shades; now, these bright, bold hues exude sophistication. Cobalt is a universally flattering shade that looks great in large or small amounts. Feeling the blue? Try out fall's monochromatic theme and wear the color head to toe. For less of an impact, try a little touch of the shade with a scarf, nail polish or eyeshadow. Either way you choose, blue's never looked so cheery!
Essie nail polish in Mezmerised, $8